We are currently located on a 60 acre farm in NW Michigan, just north of Grand Rapids. We're not just farmers, we are active partners with our environment. This collaboration inspires us to use methods that restore, rebuild and respect the land. The result, we hope, is abundance and growth for the ecosystem we're entrusted with. 
PIG-TOPIA
Pig-topia is our version of the ideal landscape for pigs to live in.  It consists of approximately three acres of previously underutilized woods, brush, and pasture.  A hi-tensile, solar powered electric fence keeps the pigs in.  Locally raised, non-GMO grain supplements the pig's diet that they get from the woods. 
Contrary to the management methods many current "pastured pork" operations, p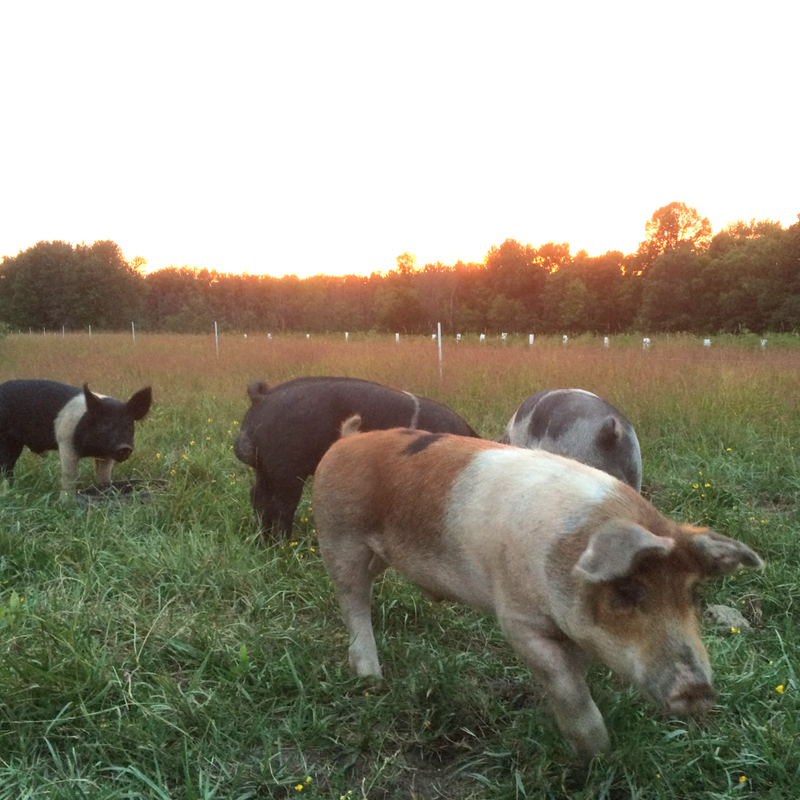 igs are predominantly forest animals, and prefer forest to pasture. Forests are generally cooler (pigs can't sweat), shady (pigs get sunburned just like us), provide shelter from the weather and provide foods that the animals prefer (yes, pigs can eat clovers and grass, but given the choice, vastly prefer fallen fruit and nuts). 
Pig-topia has several existing food producing species include wild apples, raspberries, blackberries, and oaks growing naturally in it. However, our goal is to make this a true hog heaven, so we also planted approximately 100 fruit and nut trees/bushes this spring just inside the electric fences to provide more food for the pigs in the coming years.
Species planted include: black walnut, oaks, chestnut, hazelnut, mulberry, butternut, and buartnut.  We also frost seeded clovers and trefoil this spring to provide better forage until the trees mature.
THE PASTURES
The farm encompasses approximately 20 acres of pasture.  Currently, 5  are fenced and we rotate a flock of grass-fed meat sheep (St. Croix and Katahdin crosses) across them.  Chickens and Ducks free range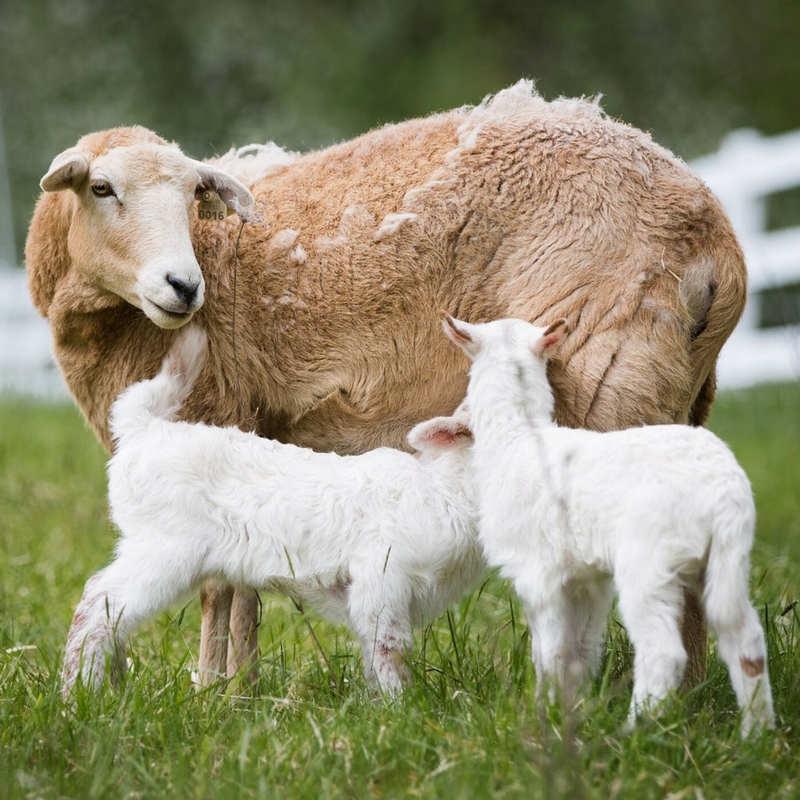 in the pastures with the sheep, generally staying within 200 feet of their coops.  The chickens and ducks generally work as cleanup crews, spreading manure, eating flies and bugs, and producing eggs.  Father out in the field away from the coops, wild turkeys take up the job of cleanup. 
We also have a pastured broiler operation, where we raise meat chickens in chicken tractors (occasionally letting them out in electo-netting to day range, when Mr. Hawk is out of town).  The meat chickens are moved daily to fresh grass, and fed a local non-GMO ration.  Besides producing flavorful and nutritious meat, the chickens provide excellent fertilizer for the pastures. 
Pastures that are not fenced are hayed, providing food for our grass-feed sheep in the winter. 
THE SUPERBERRY ORCHARD
The Superberry Orchard used to be part of the southern pasture.  It is currently roughly 1 acre in size, and contains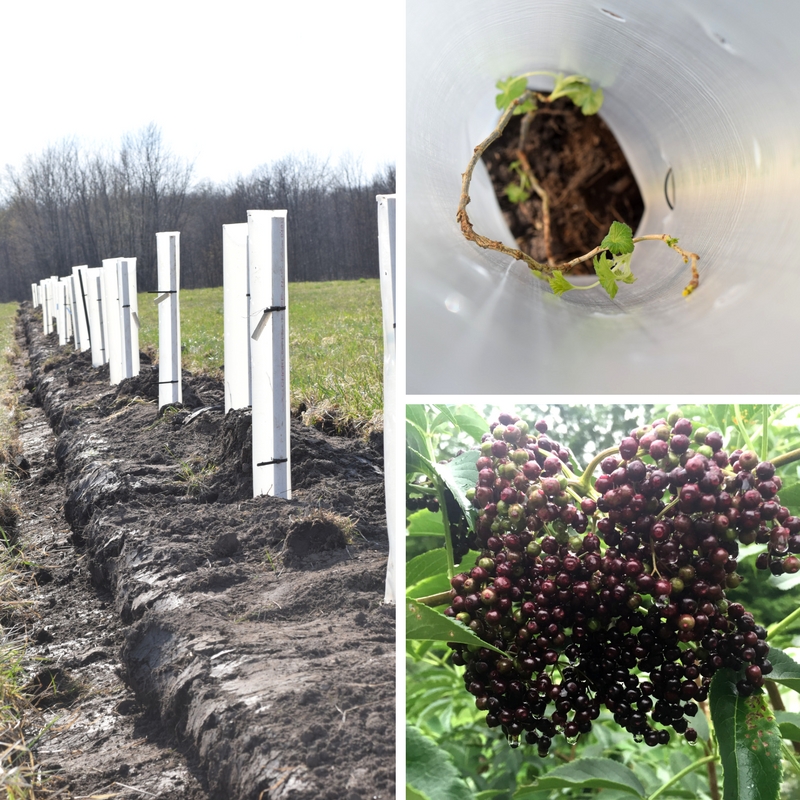 approximately 1,000 superberries:  elderberries, honeyberries, aronia, seaberries, and black currents.  These berries were chosen based on their vigorous growth and nutritious value, which when eaten can counterbalances the toxins endemic to modern life.  They are also delicious, and can be made into numerous products such as wines, fruit leathers, spirits, and immune support syrups.  We are expecting to plant many more berries in the next few years. 
THE FOREST
The forest is the most underutilized and largest part of the property, consisting of approximately 35 acres.  We tap maple trees and gather firewood, but generally, we let the deer, squirrels, and turkeys run the place.  However, although there are some sugar maples, beeach, and oak trees, the forest has been degraded over the past 300 years of (mis)use – which means that there is also huge potential here.  Eventually, we hope to manage the forest to encourage more species diversity, more fruit and nut producing trees, and to turn it from the current closed canopy system into more of an oak Sylvania system, similar to what it would have looked like prior to European settlement and logging.
Want to get in touch? We'd love to connect. You can contact us here.